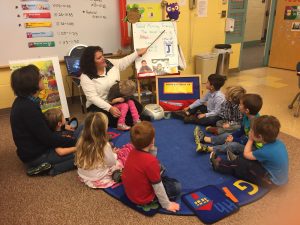 Click here to learn more about our Pre-School and Pre-Kindergarten Registration and Screening
Click here to read the 2017-2018 Preschool Parent Handbook
View our Preschool Program PowerPoint Presentation
Preschool Zoom Orientation Information & Welcome Letter 2020
Our preschool offers a developmentally appropriate, integrated early childhood experience, in accordance with the guidelines provided by the Massachusetts Department of Early Education and Care.
Each day, open-ended activities are offered to the children. Staff members take note of children's interests and plan projects that encourage exploration of these interests, documenting the process with developmental checklists, photography and written narrative. Current research in child development shows that all children – those with special needs and their peers – benefit from these activities, gaining the best preparation for future schooling. In our program, special emphasis is placed on stories, songs, and poems that encourage language development.
These skills, as well as the development of gross and fine motor areas, are primary tools for building future school success.
Our preschool program uses math and literacy materials that are in line with the "Guidelines for Preschool Learning Experiences" through the MA Department of Early Education and Care, as well as the "Massachusetts Curriculum Frameworks."