School News
Principal's Message
Back to School Updates
Cash Calendar Winners
JANUARY 2021
All in-person learners will be back in school on January 25, 2021. Please have your student bring in their Blizzard Bag #2. Remote students please drop off your Blizzard Bag #2 in our drop box next to the front doors by January 29, 2021.
As scheduled lunch will be Pancakes, Veggie Sticks, Sausage Patties and Fresh Fruit.
Technology Getting Started and Help GuideThis page includes a link to Technology Tutorials, answers to frequently asked technology related questions/concerns that I have received about Google Classroom, Clever, SeeSaw, Zoom, and more, as well as, a form that you can fill out if you continue to have questions about technology.
Health Guidelines School Year 2020 – 2021
In August 2020 Governor Baker along with State Health Officials announced that the influenza immunization is required for all children 6 months of age or older who are attending Massachusetts schools by December 31, 2020, unless either a medical or religious exemption is provided. Students that are attending both in person and/or remote are required to have this immunization.
If you have not done so already please send in your immunization documentation to Mrs. Zuidema (dzuidema@frrsd.org) our School Nurse. If you received your immunization at the Flu Clinic held here at Farmington River please contact Heather Barbieri, Director of Emergency Management at Fairview Hospital at 413-854-9656 or email her at hbarbieri@bhs1.org to arrange for your immunization record to be sent to the school.
If you have any questions please give Mrs. Zuidema a call at 413-269-4466 ext 146.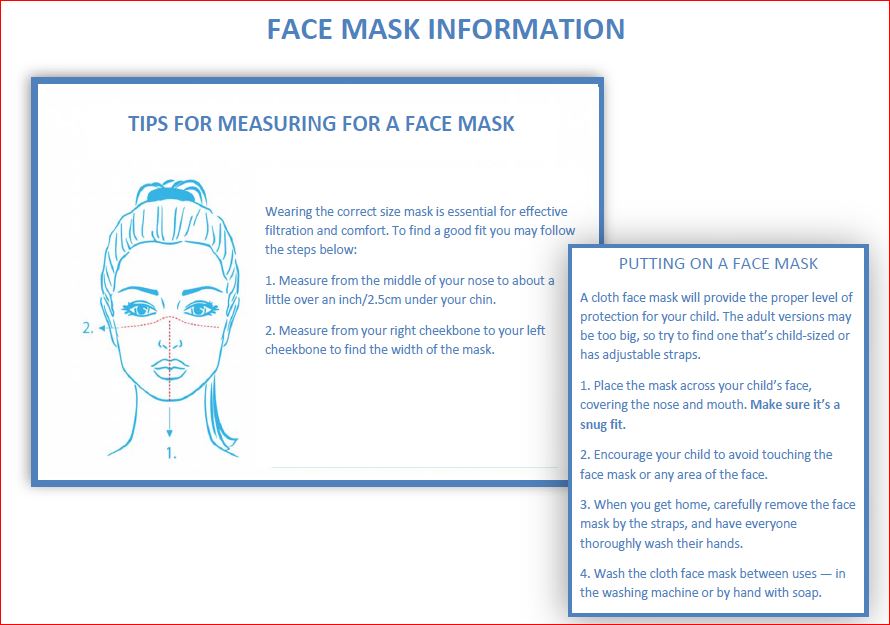 Updated Letter from Mr. Nadolny dated 10/26/2020
Dear Farmington River Families,
Administrators and teachers everywhere recognize the important contributions parents and guardians make toward a child's success in school. There is no question about it – success at school begins at home. Parents and guardians are the single most important variable in a child's schooling. Parents model both a silent and spoken language in front of their children daily.
Farmington River Elementary has a strong tradition of supportive, hard-working parents/ guardians. Throughout the year parents have the opportunity to develop that partnership in a wide variety of ways. Parents read to their children and help in many other ways. It is important to your child that you are involved in some way at school. It's a way to let your child know you think his or her school is important.
As we begin a new school year, we find teachers establishing school standards and rules. In the most successful classrooms, teachers have established specific routines for the children to follow. This means giving the children a specific place to find and keep materials, a set schedule for classroom instruction, etc. These routines, blended with the teacher's consistent standards, form a smooth running classroom where the children have the security of understanding their environment and are reinforced positively for their contributions.
At home, it is also important to provide routines. Many families build a daily "quiet time" when the television is turned off. This quiet time provides students the opportunity for completing schoolwork or for recreational reading if there is no homework. During this quiet time find a suitable place, somewhat free of other distractions, should be available. The routine of a daily quiet time provides an opportunity to develop self-discipline, stimulate imagination, and enhance reading skills.
As families establish routines for the new school year, it is helpful to keep in mind that childhood is a special time of learning, exploration and growth. Children need to be provided free time to explore their world and experience the joy of discovery.
Hopefully we can provide time for our children to be children. The realities of the adult world will be there all too soon. As children grow and learn, they find joy and satisfaction in working closely with their families toward a common goal. Such is the case with the students at FRES. Commitment to the best for our children on the part of parents, guardians, students and staff is the key to our success with the children we teach. It is the hope of the staff that all parents and guardians will help us fulfill this commitment to excellence on behalf of ALL children at FRES.
Thank you as always for your continued support!
Sincerely,
Thomas Nadolny
Farmington River Regional School District
Superintendent of Schools
Farmington River Distance Learning at it's Best!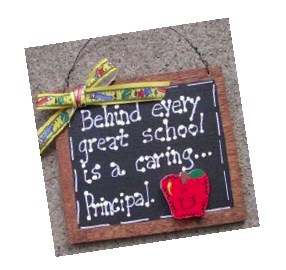 School Principal's Day
Throughout the school year, these educators assume the commitment to lead our young people to a prosperous future. They support and guide quality teachers and staff resulting in productive learning environments for our children. In May we celebrate School Principal's Day!
Remember to take the time to thank Mr. Nadolny!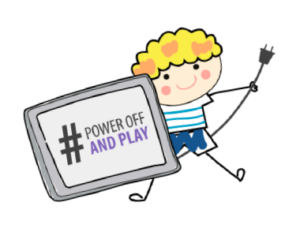 SCREEN FREE WEEK…

Farmington River will be celebrating Screen-Free week starting May 18th! Challenge yourself to go screen-free for a part of each day. Even 10 minutes of screen-free time pro-vides an opportunity for creative thinking, family connection and so much more! Farmington River staff have created a giant list of fun, family activities to help get you jumpstarted. There are even some amazing community service projects on there! Take a look and see what ideas your teachers have for being screen-free. Send a picture to show your teachers and friends what you did to celebrate Screen-Free Week!

Farmington River Elementary School teachers provide so much to our students' inspiration, motivation, and futures.
Our teachers change the lives of the students every day, and their impact extends far beyond the boundaries of their classrooms, especially now that we have transitioned to remote learning!
In May we celebrate all of the amazing teachers that Farmington River has. Send your teacher a message thanking him/her for all they do day in and day out to make sure our students continue to grow and thrive!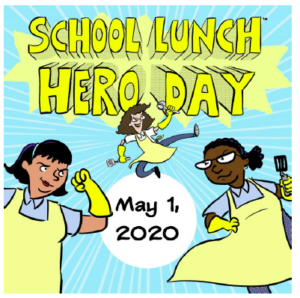 School Lunch Hero Day

–
In May we celebrate Ms. Kendra and Ms. Candy for all they do and continue to do to provide healthy breakfast and lunch options for our children. Send them a message and let them know you appreciate all they do for the children of Farmington River.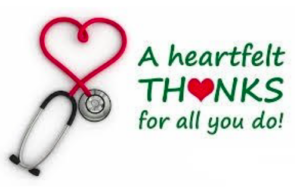 National School Nurse Day –
National School Nurse Day honors all school nurses who care for the children n the schools every day. In the month of May we celebrate Mrs. Zuidema for all the great care she gives us all! Send Mrs. Zuidema a message thanking her for all she does to keep Farmington River students healthy!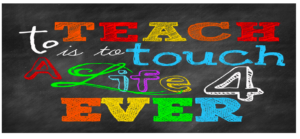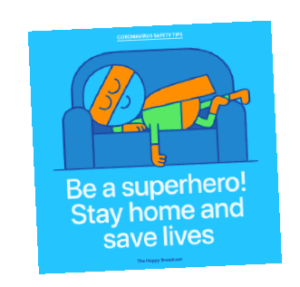 Here is the link to a great read aloud by Awnie's Story Time. It is called "Why We Stay Home, Susie Learns About Corona Virus."
Remote Learning Artwork by Ms. Catullo's Artists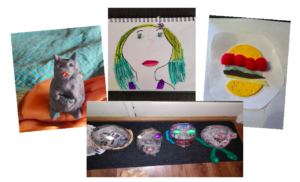 Happy Mother's Day to all the Moms, Dads, Step-Mothers, Step-Fathers, Grandmothers, and Grandfathers making a difference in the life of a child.
September 2020
Dear Farmington River Families,
As we approach the beginning of a new school year, I want to assure you that all staff has worked hard to prepare the school to be a safe and productive learning environment. School begins next Thursday, September 10th. Cohort A will start their hybrid learning at school on Thursday and have remote learning on Friday. Cohort B will log on to Zoom at 9:00 AM with their classroom teacher's on Thursday morning and begin learning at school on Friday. As a reminder, Cohort A will attend school in person every Monday and Thursday. Cohort B will attend school in person every Tuesday and Friday. All students will learn remotely on Wednesdays. On Tuesday, October 6th, all students in both Cohorts will attend in person, five days a week. As you know, our plan will allow parents and families to choose to adjust the instruction method from in-person to remote or from remote to in-person, every four weeks. All changes to the instruction method are to be communicated to the teacher one week in advance to allow for proper planning.
More technology information will be coming shortly from teachers and staff. Please note that there is a Technology Help and Getting Started with Remote Learning Guide on the website, which lists technology tutorials, frequently asked technology-related questions and answers, and a form to fill out if you have additional questions. A letter with your student's passwords and how to get started with remote learning will be sent home with supplies for remote learners any other family picking up supplies on Tuesday. On Thursday, the letter will be handed out in the classroom for students in Cohort A who did not receive it on Tuesday and will be emailed to students in cohort B who did not receive the letter on Tuesday, so they have the information before class begins on Thursday.
Transitions to and from school will be staggered to provide maximum safety to all. Parents/Guardians are to drop off students between 8:10 AM-8:30 AM in the upper parent parking lot across from the school's entry. Paraprofessionals will assist students in the building from the parking lot. Due to COVID19, parents will not be permitted to enter the building without prior permission from the Superintendent/ Principal. Student dismissal for parent pickup will occur at 3:00 PM – 3:05 PM.
As part of the reopening plan due to COVID-19, the school has implemented additional procedures consistent with state guidelines. A daily health screening online form will be required and must be completed by all staff and the parents/guardians of each student. The student daily health check form can be accessed on the homepage of our website. If the form is not completed, the student will be screened by the School Nurse. If a pattern develops of failure to complete the Student Daily Health Check form, the school could transfer the student to remote learning. Additionally, all students and staff must wear face coverings when in common areas, including the bus and vans. Parents should send their children to school with a clean mask each day. Masks will be provided for families who may forget. Students will be given mask breaks throughout the day. They will not be required in the lunchroom when eating at their seat. We fully realize this requirement will be difficult for some of our younger students, and we will do our best to assist them.
Consistent with state regulatory guidance, students demonstrating COVID-19 symptoms will be immediately monitored by the nurse in a designated safe place. I have instructed the school nurse to send students home, instantly at the first sign of any symptoms. The school is not able to test for COVID or the flu. Students will be required to see their healthcare provider before returning to school. I realize this puts an additional burden on Parents/Guardians, but I must keep the students' and staff's health and safety as my priority. Please remember, when in doubt, sit it out.
The Department of Education has mandated that all schools keep attendance records for all learners. Parents are expected to call the school to report if their child will not be attending either in person or working remotely due to illness. All students are also expected to complete assignments by their due dates, both in school and remote learners. Grades will be significantly affected by missing assignments and low attendance and could affect grade-level promotion in June of 2021.
Sincerely,
Thomas Nadolny
Farmington River Regional School District
Superintendent of Schools
Back to School Updates
Dear Parent and Guardian(s),
As of Tuesday January 19th, the Department of Education has mandated that students receive 20 hours of synchronous learning per week. This will include all core academics as well as specials. Once we return to school all remote learners will revert to the original schedule. The schedule for next week will reflect a student's normal in person day. Your child's teacher will be sending you the exact schedule with times.
8:30-9:15 – 45 Minutes Zoom – (targeted assistance, morning meeting, morning work etc.)
1 hour Zoom – ELA block to be scheduled during your regular ELA time.
45 minutes Zoom – Specials will Zoom during their regular scheduled times (teachers receive prep)
Lunch Scheduled at the same time students currently have lunch
1 hour Zoom – Math block to be scheduled during your regular math time
30-minute Zoom – (reading/questions/end of day)
My goal is to reopen as soon as possible. I thank you for your patience and understanding.
Tom Nadolny
Principal/Superintendent
From Mrs. Zuidema our School Nurse – If you have COVID questions please click here.
2021 Cash Calendar Request Form
Cash Calendar Winners!
2020 Winners:
March 1, 2020 - Malcolm McCain $300. Donation from Chaffee Construction 413-429-5972
March 2, 2020 - Brian Croey $100. Donation Bruce's Hardware 413-269-4309
March 3, 2020 - Marybeth Borachez $100. Donation from Chester Granite 413-269-4287
March 4, 2020 - Cheryl Green $250. Donation from "In Memory of BRP"
March 5, 2020 - James Densivy $200. Donation from Gary O'Brien Property Services. 413-441-1357
March 6, 2020 - Tom Soules Jr $250 Donation from GJ Pease Logging & Land Clearing 413-258-4894
March 7, 2020 - Bruce Plank $250 Donation from John Field Tree Service 413-329-6519
March 8, 2020 - Nicole Penna $100 Donation from Katie's Country Store 413-269-4211
March 9, 2020 - Chris Spring $250 Donation from Knox Trail Inn 413-269-4400
March 10, 2020 - Nick Hiller $150 Cash Donation by New Boston Crane 413-258-4653
March 11, 2020 - Deb Prew $100 Cash Donation by Pittsfield Communications Systems Inc 888-297-2346
3/12/2020 Joy Boyer #0924 - $125 Cash Donation by RSE, LLC Bogart Muller 413-717-1559
3/13/2020 Phil Colgan #1929 - $100 Cash Donation by Riiska Brook Orchard 413-258-4761
3/14/2020 Irene Gray # 0953 S - $100 Cash Donation by RJ Beham Forest Products 413-229-2182
3/15/2020 Gary Hagar #1750 - $150 Cash Donation by SS Home Improvements Steve Seddon 413-563-1483
3/16/2020 Alice Lord # 1252 - $100 Cash Donation by The Drenga Family
3/17/2020 Jay Reynolds #1138 S - $500 Cash Donation by Soap and Suds 413-269-8905
3/18/2020 Hanna Chamberland #0896 - $250 Cash Donation by Tolino & Sons 413-329-8083
3/19/2020 Gail Soules #1410 - $200 Cash Donation by AK Construction 413-386-4739
3/20/2020 Donna DiTucci #0196 S - $100 Cash Donation by CW Nelson Landscaping & Nursery 413-258-3375
3/21/2020 Jessica Cook #1940 - $200 Cash Donation by Irish Trucking 413-281-8990
3/22/2020 Ethan Lemon #1877 - $100 Cash Donation by Lambert Landscape Construction Zachary Lambert 413-770-2901
3/23/2020 Zoe Nelson #0800 - $50 Cash Donation by Lombardi Builders 413-329-6056
3/24/2020 Creighton Curtiss #0916 - $100 Cash Donation by Michelle Manto Acupuncture 413-644-9488
3/25/2020 Destiny Velasquez #1916 - $100 Cash Donation by Sunny Rose Farm 413-446-4944
3/26/2020 Frank Gaulin #1748 - $200 Cash Donation by WD Hewins & Sons 413-229-8849
3/27/2020 Mike Steben -
$75
Cash Donation by Berkshire Mountain Sculpture- Ken Packie 413-281-0591
3/28/2020 Heather Ball -
$50
Cash Donation by Center for Dance II 860-379-9755
3/29/2020 Tony Campetti #0612 - $100 Cash Donation by Iron Blender Studios Wendy Berman
ironblender.com
3/30/2020 Doreen Lee #0506 - $100 Cash Donation by P&R Construction 413-717-2283
3/31/2020 Ken Fogarty #0806 - $100 Cash Donation by Snow Farm Susan Tarasuk 413-717-0579
4/1/2020 Pop's Root # 0932 - $50 Cash Donation by Colebrook Store 860-379-5031
4/2/2020 Diane Kilmer # 1645 - $100 Cash Donation by Jody's Floor Sanding 413-269-3528
4/3/2020 Bobby Travers # 0199 - $100 Cash Donation by Kimberley Electric 413-441-0212
4/4/2020 Amy Maxton #0073 - $50 Cash Donation by Andrus Power Solutions 413-644-5500
4/5/2020 Kelly Bianco #1642 - $50 Cash Donation by Barrington Brewery & the Craumer Family
4/6/2020 Erik Fredsall #0708 - $100 Cash Donation by Havens Lawn & Patio 413-528-3602
4/7/2020 Bryanah Johnson #1702 Sold by Connor Lewis - $150 Cash Donation by JR Wilkinson Construction 413-229-2039
4/8/2020 Kristen Brown #0821 - $100 Cash Donation by Chip Paul Stone Works 413-269-4455
4/9/2020 Dusty Haas # 1685 - $50 Cash Donation by Zabian's Jewelers 413-243-0508
4/10/2020 Gerry Curtin # 1203 - $100 Cash Donation by Berkshire Bank 800-773-5601
4/11/2020 Shannon Decker #0274 S - $100 Cash Donation by Subterranean Drilling 413-269-7152
4/12/2020 Becca Martin #1614 - $125 Cash Donation by A&M Auto 413-258-3381
4/13/2020 Tom Saunders #1263 - $100 Cash Donation by Meyer Well Drilling Chip Crandall 413-269-4578
4/14/2020 Lisa Valente #1629 - $50 Cash Donation by Innovation Renovation 413-429-1621
4/15/2020 Cindy Valentine # 0961 - $250 Cash Donation by Ameriprise Financial 413-644-3270