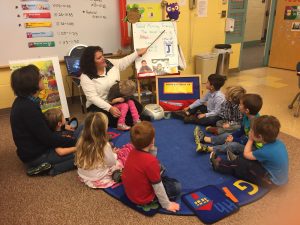 Click here to read the 2016-2017 Preschool Parent Handbook
View our Preschool Program PowerPoint Presentation
Our preschool offers a developmentally appropriate integrated early childhood experience, in accordance with the philosophy of the National Association for the Education of Young Children (NAEYC) and the guidelines provided by the Massachusetts Department of Early Education and Care.
Each day, open-ended activities are offered to the children. Staff members take note of children's interests and plan projects that encourage exploration of these interests, documenting the process with developmental checklists, photography and written narrative. Current research in child development shows that all children – those with special needs and their peers – benefit from these activities, gaining the best preparation for future schooling. In our program, special emphasis is placed on stories, songs, and poems that encourage language development. These skills, as well as the development of gross and fine motor areas, are primary tools for building future school success.
Our preschool program uses math and literacy materials that are in line with state standards, the Massachusetts Curriculum Frameworks, and curriculum used in our school's grades kindergarten through grade 6.
In June of 1995, the preschool programs were granted accreditation by the National Association for the Education of Young Children (NAEYC). Accreditation is earned by programs of the highest quality that are staffed by experienced, trained personnel who provide a nurturing learning environment for young children. Re-accreditation was awarded in June 1999 and again in June 2004. In 2007, we became accredited under the new "reinvented" accreditation system which is valid through 2017.