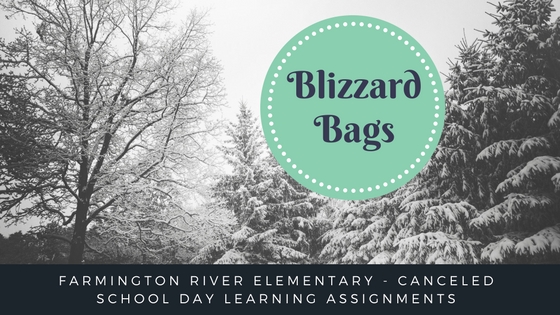 In the case of a school cancellation, a "Blizzard Bag" for that day will be provided to your student to be completed at home. The first Blizzard Bag will be sent home on November 1 of each school year to be used for the first canceled day of school. The completed work must be turned in within 7 days or it will be counted as an unexcused absence for your student.
Parents can email questions specifically related to that days Blizzard Bag assignments directly to the child's teachers on the snow day. Emails should be sent before 12:00PM on that day. Teachers will respond between Noon and 1PM to any questions. There may be some circumstances where a teacher is unable to respond during the snow day, and in that case the teacher will respond as soon as possible. Teacher email addresses will be placed in the blizzard bag. If parents have questions about the Blizzard Bag assignments after the snow day, please feel free to send them anytime and the the teachers will respond as soon as possible.
In addition, An after school Study Hall will be provided during the Tuesday and Thursday following each Blizzard Bag day from 3-4 PM in the cafeteria.
Study Hall Guidelines:
Each student requesting Study Hall will need a permission note from home.
Parents are responsible for transportation at the end of study hall. Students must be picked up promptly at 4:00 PM.
Study Hall will be capped at 20 students per study hall. Students will be served on a rotating basis if more than 20 students sign up for a study hall. Phone calls will be made by the office to confirm student attendance if there are questions or concerns.
Each Study Hall will be staffed by 3 teachers; 1 lower grade teacher, 1 upper grade teacher, and 1 special area teacher.