September 2017
A few reminders for the new school year:
PLEASE NOTE: School Calendar Change: There will be No School on October 6 for a teacher's professional day, instead of May 25.
If you haven't already done so, please turn in your completed and signed Registration Packet ASAP
Keep us updated to any changes to your contact info, such as: Address, telephone number, email address
Call by 9:00 AM if your child is absent or will be late
A note from parent/guardian must be sent into school for any change to the usual after-school dismissal routine
NO CARS are allowed in the driveway during arrival / dismissal. It is best to park in the Visitor's Lot or the side lot and have your child walk on the sidewalk.
Consider paying for your child's meals monthly—either online or with cash or a check—for your convenience.
Thanks for your cooperation & have a great year!
Enrichment Clubs
Our after-school Enrichment Clubs are up and running already this year! We're starting the year with the Explorers Club where students explore and document the changing seasons in the woods behind the school. Students will also explore the world using Google Maps and Google Earth.
Enrichment Clubs are free and open to FRRES students in grades 4-6. The next club starts in November, so keep an eye out around Halloween for the next club sign-up sheet!"
~ Mrs. Cannon
Health & PE News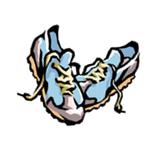 SNEAKER REMINDER!!!
Please make sure all students come prepared with sneakers for PE class. With the cooler weather approaching it can be easy to forget to pack them.
A good tip – – leave a pair at school, that way you are always prepared.
This will be a great year!
~Mrs. Daley
Mrs. Catullo's Art Corner

The Art Room is bustling with creative energy, as students seek creative solutions to the art challenges they have been given so far.
The upper grades have engaged in discussions about the "world of Art and the rules of Art" and have created their own "rubric" for what makes something an artwork. They then explored some elements of design, such as the use of different kinds of lines and how to use shading to create different effects. They have experimented with enlarging and grey scales, as well as a variety of drawing tools (pencils and charcoal) that vary in the kinds of marks they make. The lower grades have explored how different shapes create animals and other familiar objects. They have created drawings and collages using these shapes to tell a story. As we move into the end of the month and get closer to October, we will be working with chalk and pastels to create still life drawings, landscapes, and story scenes. This year's fifth grade will also enjoy a workshop with local artist, Ann Jon, who will provide a lesson about using the senses to create a work of art using clay.
We are also looking for parents, who are working artists, to come and talk with us about your style of making art!
Kids' Café News

We've had a wonderful first few weeks in the Kids' Café! The students have had the chance to sample canary melon, from Ray's Farm in Southwick. Canary melon is a bright yellow melon rich in potassium, Vitamin A and Vitamin C.

Students have also sampled kohlrabi—a vegetable that has a broccoli/cabbage flavor. It's loaded with Vitamin C and fiber. Smoothies are underway and as always a huge hit!
Music

Music is a creative output where we can express ourselves freely. At Farmington River Elementary, the music room is filled with singing, dancing, and playing a wide variety of instruments. We provide General Music classes for all grades, as well as band and chorus for the upper grades. This year, we will be introducing an guitar class after school. For the lower grades we provide the introduction of steady beat and rhythm, pitch, and dynamics. As for the upper grades, we focus on being exposed to wide variety of musical genres, as well as musical performance and ensemble playing. We are all very excited to have the students at Farmington River Elementary create the art of music.