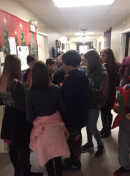 6th Grade Holiday Cheer Event:
The 6th grade class from Farmington River Regional Elementary School visited Berkshire Rehabilitation and Care Center in Sandisfield, MA on December 20th. They delivered homemade cookies and cards that they decorated with Ms. DiGrigoli, Ms. Flower, and Ms. Catullo,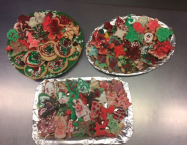 as well as read poetry that the students had written in class with Ms. McArthur, Ms. Fleming, and Ms. Bush to the residents. It was a nice opportunity for the students to learn the importance of giving during the holiday.
A few reminders:
Keep us updated to any changes to your contact info, such as: Address, telephone number, email address
Call by 9:00am if your child is absent or will be late
A note from parent/guardian must be sent into school for any change to the usual after-school dismissal routine
NO CARS are allowed in the driveway during arrival / dismissal. It is best to park in the Visitor's Lot or the side lot and have your child walk on the sidewalk.
Consider paying for your child's meals monthly—either online or with cash or a check—for your convenience.
Thanks for your cooperation!
The PTA Ski Program will start January 3rd and includes 6 weeks of fun!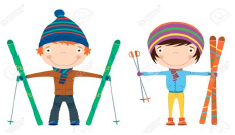 Participation includes:
5 nights of lessons
Lift passes
Rentals
The PTA covers $25 of the cost per Farmington River student, so your out-of-pocket cost is $40 per student. (Family members can join at the full price of $65) Please call the school to see if there is still time to sign up.
Enrichment Clubs
The Engineering Bridges Club will start on January 9, 2018. Keep an eye out the first week of January for the flier to sign up your student for this exciting and hands-on club!
The Finance Club and 5th Grade Classroom fundraiser for Puerto Rico was a great success! Together with local businesses, we raised $357.00 to donate through the One America Appeal for Hurricane Relief Campaign.
Thank you to everyone who contributed; all that spare change really added up!"
Health & PE News
Weather permitting; we will be starting our Snowshoe Unit at the end of January! Students MUST have the following in order to participate: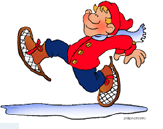 -A hat
-Mittens or gloves
-Warm jacket
-Snow pants
-Boots
-Students may also want to bring a scarf or something to cover their necks and chins.
If anyone has any of these items that are in good shape and no longer in use, I would like to keep a small collection in my office just in case someone forgets something
Please look for more information to be coming home!!
Kids' Café News
Last month, we all enjoyed sampling our "Harvest of the Month" which was Roasted Carrots and Carrot Mac & Cheese!! The students also sampled purple & white roasted cauliflower. Delicious!
January's "Harvest of the Month" is Apples. Be sure to keep an eye out for them on our menu.
As always, The Kid's Café serves Breakfast daily from 8am-8:45am. Any student arriving late can take a Grab-n-Go Breakfast to their classroom. We also have weekly specials – Smoothie Wednesday and Homemade Waffle Thursday.
Please check out our new page on Facebook…The Kids Cafe. We will post our menu daily and keep you up-to-date on any exciting news.
Art News
Painting, Sculpture and Print-Making are forecasted for January's Art Projects. Keep your eyes open!
Student Council News
Student Council is working on setting up a School Store where an assortment of school supplies can be purchased at huge discounts. Location and opening date to be announced.