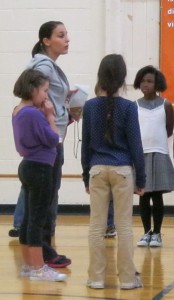 Physical Education
Welcome to the Physical Education Program at Farmington River Elementary School! Physical Education is scheduled once a week for students K-6. Students also have a health class once a week. The goals of the physical education program include:
The creation of a variety of challenging, stimulating activities during each lesson throughout the academic year that instills in each child an enjoyment of movement.

The acquisition of the basic skills of sports and fitness with which to be successful in play.

The awareness of the basic concepts of fitness and health.
Special attention is also given to experiences that develop social interaction, cooperation, and sportsmanship. The development of a sense of fair play and cooperation in children and the ability to work in groups and teams, leading to increased cultural understanding, is paramount in the Physical Education Program at Farmington River Elementary School. The primary objective is to foster in children a love of physical activity and play that stimulates the children's desire to participate in physical activities not only during their school years, but also for the rest of their lives.
PHYSICAL EDUCATION EXPECTATIONS
Students will strive towards individual excellence through exploration and challenge.

Students are expected to RESPECT INDIVIDUAL DIFFERENCES and RESPECT THE ABILITIES OF OTHERS.

Students will exhibit good sportsmanship- encouraging one another, being kind and courteous to teammates and opponents.

Students will recognize that physical activity can provide an opportunity to successfully interact in individual and group activities.

Students will experience the joy of movement and develop a LOVE for PHYSICAL ACTIVITY.