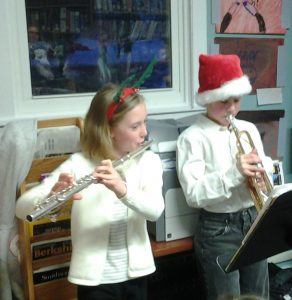 Music at Farmington River Elementary School is an important part of our students' education. It is critical in providing students with knowledge of our world as well as broadening their knowledge of topics learned in their regular classroom. Skills developed in music class are transferred to other areas of their life as students expand their imagination, creativity, concentration, thinking-skills, and confidence.
In general music classes, the National Standards for Music Education provide a strong foundation for the lessons that take place. Each lesson contains one or more of the following 9 standards:
National Standards for Music Education
Singing, alone and with others, a varied repertoire of music.

Performing on instruments, alone and with others, a varied repertoire of music.

Improvising melodies, variations, and accompaniments.

Composing and arranging music within specified guidelines.

Reading and notating music.

Listening to, analyzing, and describing music.

Evaluating music and music performances.]

Understanding relationships between music, the other arts, and disciplines outside the arts.

Understanding music in relation to history and culture.
Ms. Grey follows a curriculum requiring students to answer essential questions upon which units are built. As students move from Kindergarten to 6th grade, they will be presented with questions such as: "When does sound become music?" "How is the recorder a musical instrument?" and "Where do composers get their ideas?" Throughout the year, students explore stories in music, dances, instruments, world music, folk tunes, our country's music, compositional work, music history, and more. In class, students work both together and independently to move, sing, play instruments, listen, perform, and critically evaluate music. It has been said that, "no one can claim to be truly educated who lacks basic knowledge and skills in the arts." (National Association for Music Education) The music curriculum provides students with the stepping-stones to becoming cultured, educated adults.
[cincopa AIMAYwq8Ic74]