Kindergarten
Grade 1
Grade 2
Grade 3
Dear Families,
Welcome to Kindergarten at Farmington River Elementary School! We are very excited to be working with your child! This is a new and exciting time for you and your child. It is a time of change and new beginnings. By working together, we can make it a happy and rewarding experience for everyone! We realize that you may have many questions about Kindergarten and Farmington River Elementary School. This newsletter will answer some of those questions.
TIMES & EMERGENCY CARDS
School for kindergarten begins at 8:45 a.m. Students can enter the school no earlier than 8:00 and will go to the cafeteria. School is dismissed at 2:55/3 p.m.
Kindergarteners will only be released to parents/guardians designated on the emergency card. Please keep this card up to date. If you need to make alternative arrangements for your child to get home, a written note must be sent in to school on that morning giving the school notification of the change. Also, if your child has any allergies, there must be documentation given to the school nurse and the teacher.
FOLDERS
Every student will be given a folder, which most families sent in on the first day. We ask that you send this folder in with your child every day and check it every night. We will put any important notices (monthly newsletters, calendars, fundraisers, school notices, etc.) and work that needs to be brought home in them. Also, if you ever need to contact us, this is the place to do so. Just place a note in the folder and we will get back to you right away.
ITEMS FROM HOME
Please send in an extra change of clothes for your child in case of emergency. We will keep these at school. Please put your child's initials on their belongings.
BIRTHDAYS
We understand that birthdays are a big deal to Kindergarten children. If you would like to send in a treat for the class to share on your child's birthday, treats must be store bought. We need to be aware of ingredients for students with allergies.
OUR SCHEDULE
Your child will have weekly special classes including art, music, computers, gym, community and career, and health. These special classes are led by other teachers outside of the regular classroom and are sure to be a favorite part of your child's school experience. Please check the monthly newsletter to see what days your child has each special. Children need to wear sneakers on their gym days, which are Monday and Friday.
Other parts of your child's day include a half hour for lunch in the cafeteria, recess on the playground, and even a quiet snack time. Please send your child in with a healthy snack daily. If you would rather send a box or bag of their favorite treat for the week or month, we can store them in the classroom.
Often, parents ask how they can prepare their child for their first year of school. Here are a few suggestions to give your child a strong start:
Read to your child regularly and talk about the stories you read. Read 20 minutes a day in English OR in your primary language.
Talk about everyday experiences with your child: eating, shopping, walking, playing, or visiting relatives or friends. This will help build your child's vocabulary and communication skills.
Help your child learn to recognize his/her name in print, as well as letters and numbers when you are out shopping, playing, or anywhere they may be.
Let your child use crayons, pencils, and (child friendly!) scissors to get their finger muscles warmed up for Kindergarten.
Help your child become more independent. From tying their own shoes and buttoning their own pants, to using tissues and opening ketchup packets — your child will be more self confident if they can perform these tasks on their own.
We are very excited to work with your child this year and look forward to a very exciting school year!
Thank you for your support,
Mrs. Ferrara, Mrs. Yvon, & Mrs. Maxton
Grade One Daily Specials Schedule
Monday: Computer 2:05 – 2:50
Tuesday: Art 2:05 – 2:50
Wednesday: Library 1:15 – 2:00, P.E. 2:05 – 2:50
Thursday: Music 2:05 – 2:50
Friday: IXL 1:15 – 2:00, P.E./Health 2:05 – 2:50
Grade One Lunch/Recess 11:10 – 11:55
Please note:
Sneakers are required for P.E. classes!!
Please be sure your child either wears sneakers on P.E. days or brings a pair to change into.
An 'extra' pair of sneakers can also be left in school in your child's cubbie to alleviate any confusion!
We will have an afternoon snack time, so please send healthy snacks with your child if you wish him/her to have a snack in the afternoon. It will be their choice to have a snack or not each day, and not all children choose to have one during this time, so your child may come home with the snack you've sent! Thank-you!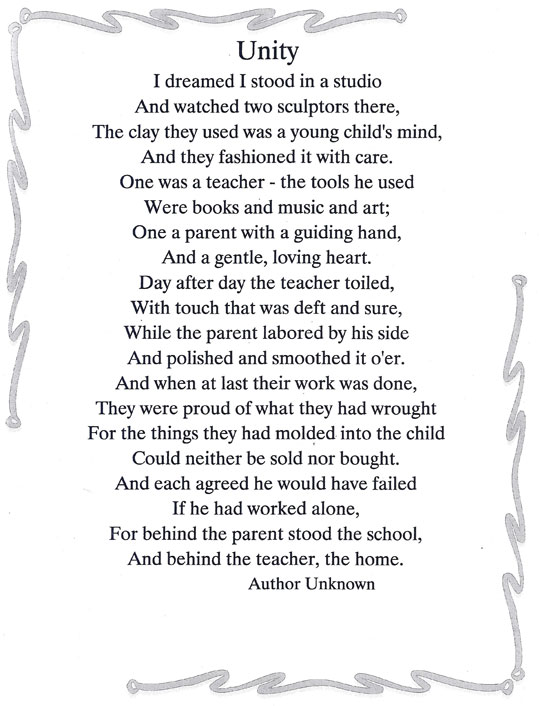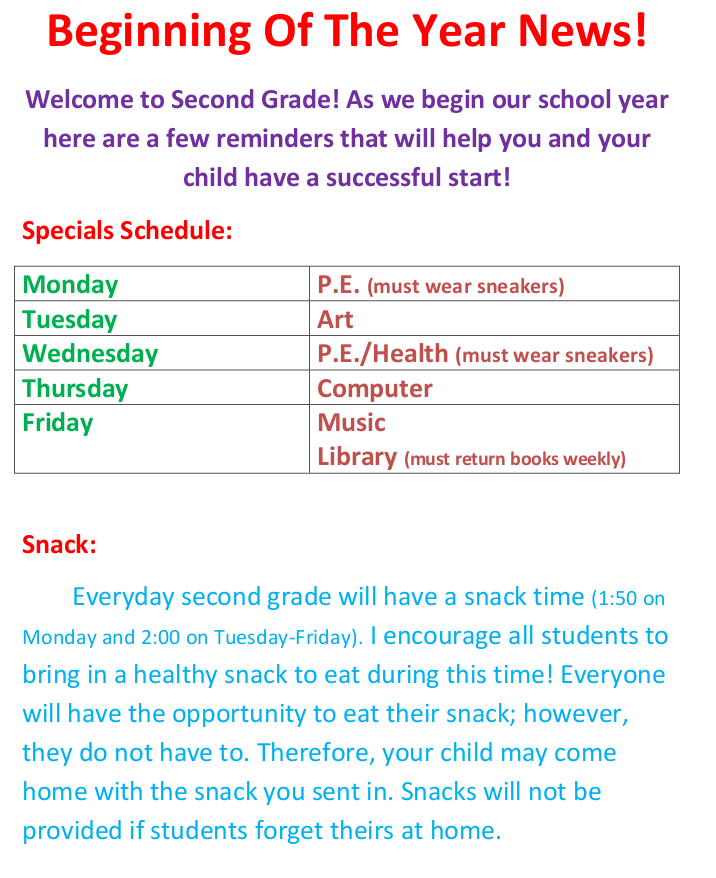 Content 4